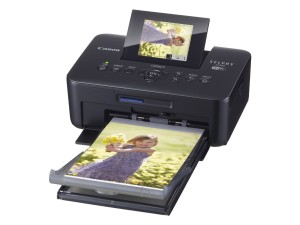 Compact and light-weight, the Canon SELPHY CP900 Black Wireless Color Photo Printer
is easily portable for on-the-go printing. It comes with an optional battery and connects wirelessly with your computer, iOS and Android devices.
The 2.7-inch tilt-up LCD screen and improved "Portrait Image Optimize" let you produce water resistant photo prints that will last up to 100 years in only 47 seconds. You also have the option to purchase the Canon SELPHY CP900 White Wireless Color Photo Printer
with a white cover instead of black if that fits your decor better.
Product Features:
Product Dimensions: 2.7 x 7 x 5 inches; 1.8 pounds
High Quality Prints – Dye-sublimation technology, that uses heat to transfer ink to the paper for amazing depth of color and a clear protective coating, which helps guard against damage from light, water and gases produce photos that can last for generations (up to 100 years). You can print gorgeous edge-to-edge, borderless photos in Credit Card and Postcard Sizes (4″ x 6″).
Portrait Image Optimize – automatically detects faces and corrects color when subjects appear darkened due to strong backlighting. Red-eye is also automatically corrected.
Apply color effects to your photos to make them more memorable. There are five to choose from.
Print from almost anywhere – Connect to your iOS device wirelessly, plug in your USB device or camera memory card in the built-in card slot or use the PictBridge connection to print photos directly from your compatible digital camera, DV camcorder or camera phone. There are so many ways to print without a computer.
The SELPHY is compatible with:

Windows 7 SP1, Windows Vista SP2, Windows XP SP3
Mac OS X v10.6 to 10.7
Customer Feedback:
More than half of the customers who purchased a Canon SELPHY CP900 Black Wireless Color Photo Printer
and gave feedback rated it five stars out of a possible five stars. They liked the compact size, the portability, the ease of setup and the great picture quality. The main negative comments were that the printer only prints credit card (2″ x 3″) and postcard (4″ x 6″) sized prints, the included ink cartridges do not produce many prints and it only comes with 30 sheets of photo paper. Some found the wifi network installation a bit tricky, but others said it was very easy to connect wirelessly. One positive note was that the printer is ideal for use with a "photo booth" setup at a party or other gathering. The prints are delivered quickly and look great. Many customers purchased extra ink cartridges and photo paper at the same time they bought the printer. Read more customer reviews
For more information or to purchase:
Amazon.com offers best-on-the-net pricing, supplies and accessories for the Canon SELPHY CP900 Black Wireless Color Photo Printer.
Click here to get yours now.
Need Photo Paper, Ink Cartridges or Cables for your color photo printer?